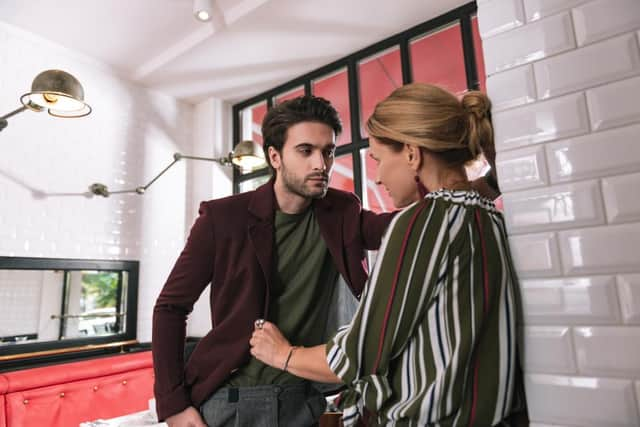 "Breaking down stigmas, the site has always championed the freedom for older women and younger men to date how they want"
Toyboy Warehouse, a cougar dating site that specifically matches older women with younger men, says there's a market in Milton Keynes and throughout the UK looking for love.
Cougar dating has exploded in recent years. From fun flings to full-blown romantic relationships, older women have been increasingly experiencing the excitement that is to be had dating younger men. Whether it's a 10, 20 or 30 year age-gap, cougar dating offers an opportunity to date men not set in their ways.
Unlike their older counterparts, younger guys are emboldened seekers of adventure and are eager to please. More and more women are uncovering this secret yet exciting dating niche.
Here are the top 8 places and dating sites to meet your match
The UK's largest dating and relationship site for older women and younger men.
Established over a decade ago, Toyboy Warehouse has grown to be the largest dating site for older women looking for younger men. The site offers an exclusive dating experience, being one of the only sites that only permits cougars. Older women are only able to chat with younger guys, and vice versa.
Toyboy Warehouse promotes itself as a proponent of age-gap dating. Breaking down stigmas, the site has always championed the freedom for older women and younger men to date how they want. Whether it be love, lust or romance, Toyboy Warehouse feels cougar dating should be available to all those excited enough to take part.
The site boasts a number of features to help you connect with cougars in your area. Its advanced search capabilities allow you to filter down to the exact mature woman who'd take your fancy. If you find someone who catches your eye, you have a number of ways to get their attention, from creative cards, a flirty wink or a clever first message.
The largest site of its type, with more UK-based male and female members than any other cougar dating site
An in-house verification team, on hand 24/7 to remove inauthentic accounts
Perfect for those who enjoy cougar dating, as all members share the same interest
Easy to sign up and get started right away at ToyboyWarehouse.com
No Google/Facebook login options
No customer care chat line, only email
London has plenty of people getting ready to party all year round.
The city is heaving with choice – whether you like heavy metal, classy jazz or techno funk, there's a club to suit your vibe.
Making up for lost time, many clubs will be open seven days a week.
If you don't find what you're looking for, there are plenty more clubs to choose from.
Easy to get to from Milton Keynes.
There's no guarantee there'll be someone there on the same night who catches your eye
You may have to pay into several clubs till you find one that suits.
This is a leading US site for women – often wealthy women – looking for young guys to date.
It's free to join, and has a blog filled with top tips for securing a date, as well as some fun first date ideas.
The North Atlantic is a pretty big obstacle. While online dating does make the world a smaller place, a 5000-mile journey is probably a bit too much for most people.
If you like to do your browsing from the comfort of your own sofa, you can't beat the ease of Tinder, the leading swipe-based app for all adults of all ages.
Setting up a profile is completely free
You can tailor your choices at any time
You can add multiple photos
You can like, superlike, or simply swipe left to move on
Not everyone is who they say they are
Like all online dating apps, cat-fishing can be prevalent
You may not find a like-minded romantic who is geographically near you.
#5 Toyboy Warehouse App (iOS & Android)
The UK's best mobile app for cougar and toyboy dating.
The Toyboy Warehouse app brings the UK's largest cougar and toyboy dating site to your phone. Not only does it boast the largest selection of mature women and younger men looking for age-gap relationships in the UK, it also has a host of features to help find you that special someone.
Giants of their dating niche, Toyboy Warehouse has prided itself on being the go-to place for cougar dating. From fun flings to meaningful relationships, the Toyboy Warehouse app claims to offer it all.
The biggest selling point the Toyboy Warehouse app claims is its membership numbers. Being around for over a decade, the site purports to have the largest selection of age-gap daters in the UK. The app offers the same access to a huge potential dating pool of singles.
Easy to download, lightning fast and full of fun dating features; the app offers an exciting dating experience
Completely free to download
Has a total messages limit, meaning you have to move an ongoing long conversation to SMS or WhatsApp
No ability to send images to another member.
If you fancy going old school, then taking up a new hobby can be the way to meet new friends, and sports clubs are an obvious choice to meet younger, fitter men, though other hobbies can work too.
You might need to be a member for a long time before you are one of the team, and that won't suit everyone.
Find someone with the same passions as you in their free time and you've already got a connection
Hobbies are a great way to meet friends, as well as dates, so you could be on to a social winner regardless
Did we mention the long game? You might have to stand on many a rugby pitch sideline on cold, wet weekends, till someone catches your eye
It's not an obvious dating scene, so people simply might not pick up on your signals.
Not wanting to make a drama out of a dating crisis, but the world is your stage … and many a relationship has started with the rise of a curtain.
Not only is the amateur dramatic scene often fun-filled and entertaining in its own right, it's packed with people of all ages looking for excitement.
The people tend to be outgoing and lively. Wallflowers rarely take to the stage, so expect to meet gregarious, fun-loving souls
It could be all over when the curtain falls … you might never meet your Romeo treading the boards.
It's a classic … fancy meeting up for a drink sometime? Well, there's plenty of places to choose from in and around MK, from the brash and boozy to the mood-lit country cottage style.
You will almost certainly feel at home, and relaxed dating makes for fun dating
If you are looking for a longer-term relationship, distance matters
You can mix it up and try somewhere new every weekend
It's not normal cougar dating territory, so expect to kiss many a frog before you meet a prince
The scene might not be your scene.