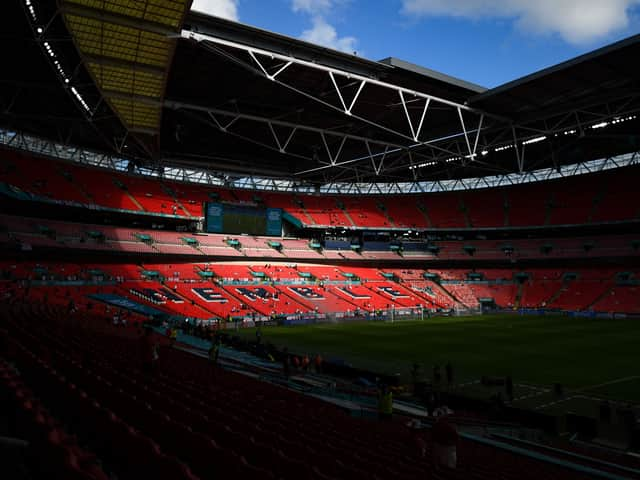 Newport Pagnell Town will grace the pitch at Wembley Stadium this afternoon as they take on Littlehampton Town in the final of the FA Vase
Get the latest from the game.
Littlehampton Town 0-3 Newport Pagnell Town - LIVE
Last updated: Sunday, 22 May, 2022, 14:15
IT'S ALL OVER!
Newport Pagnell Town fans at Wembley
They've done it! Newport Pagnell Town have won the FA Vase!
IT'S ALL OVER! NEWPORT PAGNELL WIN THE FA VASE!
Newport Pagnell Town fans at Wembley
Celebration time! Newport Pagnell have won the FA Vase!!
90 mins: Into stoppage time
Newport Pagnell are just three minutes away!
83 mins: Header wide for Littlehampton
There hasn't been a lot to write home about for Littlehampton in this game, and Shay Wiggans' header wide has been as close as they've come in a little while.
73 mins: Wright limps out
Newport skipper Jordan Wright's afternoon has come to an early end, he limps out and is replaced by Newport legend Adan Pryke
69 mins: No penalty this time
Mo Ahmed is sent tumbling in the box this time, but referee Sam Barrott is not interested.
68 mins: Double change for Newport
Goal-scorer Kieran Barnes makes way for the final 22 minutes, replaced by Ben Ford.
And Jake Watkinson is replaced by Jim Burnside.
A look at Newport's second goal
63 mins: GOAL! Shepherd nets from the spot
Just minutes after hitting the post, Littlehampton are surely out of this one now as Shepherd nets his second of the afternoon, this time with a cool penalty, sending Binfield the wrong way.
62 mins: PENALTY!
Jake Watkinson is taken out as he dances into the box by Jenkins! Penalty for Newport Pagnell!